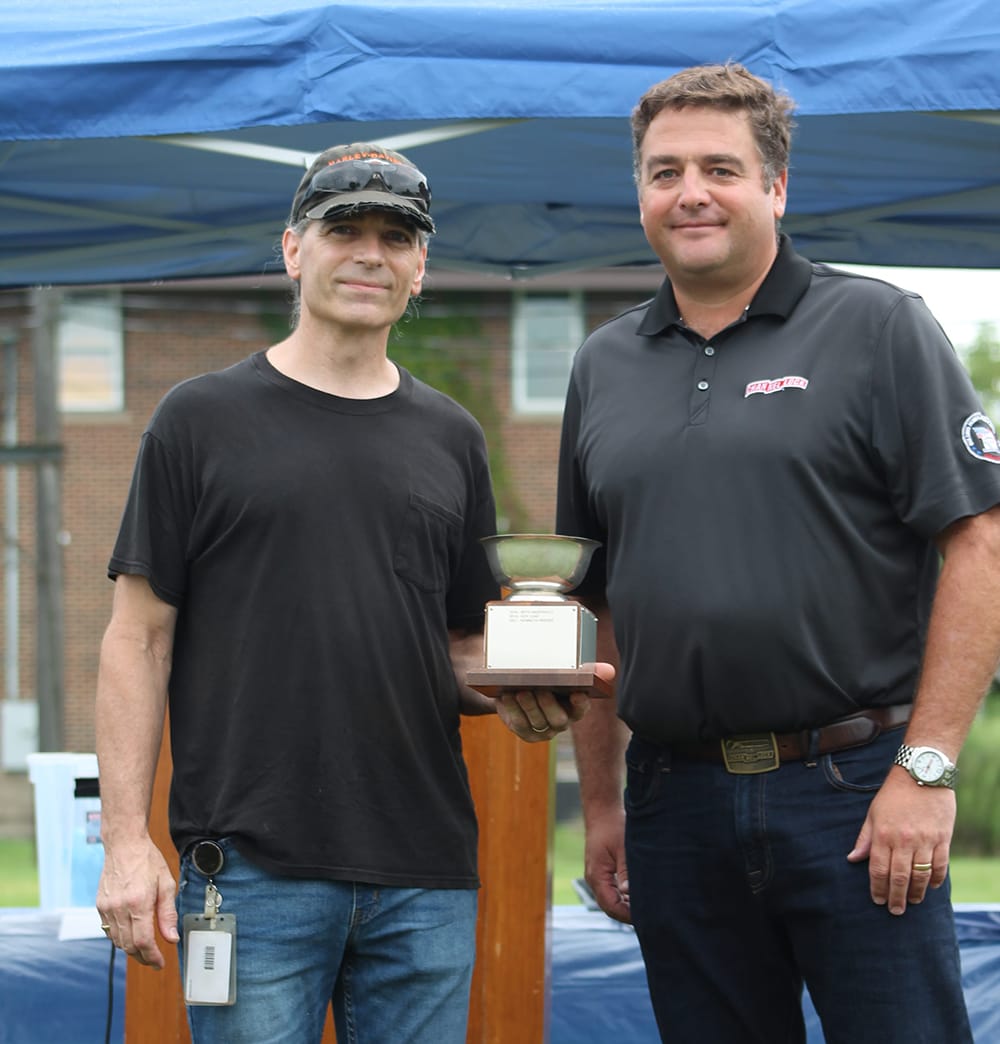 MEADVILLE, PA (Aug. 16, 2021) – After an unprecedented year,  CHANNELLOCK® is proud to recognize one of its team members who has gone above and beyond to make the company and community a better place. Kenneth Pardee, a Costa Cell Operator and Relief Supervisor, received the 17th annual Falcon Award from CHANNELLOCK® after being nominated by his peers. The Falcon Award annually recognizes one CHANNELLOCK® associate who consistently practices strong decision-making skills and efficient work habits, especially in an effort to make the company a safer, more productive and positive work environment.
"Our company has been around a long time, and that doesn't happen without great people," said Jon DeArment, president and chief operating officer at Channellock, Inc. "The Falcon Award is a way for us to recognize the hard work and dedication our people put forth each and every day, both at work and in the community. I'm extremely happy to see Ken win this year's award, as he always goes out of his way to help whenever and wherever he can."
"Ken is the go-to guy for all the questions job related and still to this day, I never hesitate to pick his brain job knowledge wise a couple of times a week," wrote one employee who nominated him for the award. "Ken has attained through longevity, experience, and wisdom an insight that has benefitted all of us within the department immeasurably."
Channellock, Inc., implemented the Falcon Program in 2004, which showcases associates that embrace the efficiency and vision of a falcon in order to move CHANNELLOCK® into a bright future. The Falcon Award recipient is determined by four key criteria: constant improvement, commitment, cooperation, and exceptional communication within the CHANNELLOCK® community. Pardee has been with the company for 27 years.
"The past 18 months have been challenging to say the least, and it's because of people like Ken who work at Channellock that keep us going, even through the current environment," added DeArment.
"We had a wonderful group of nominees whom I am proud to work with, and I was very surprised to win the Falcon Award," Pardee said. "All of our associates contribute to making this company successful. We can all keep America strong by making great American pliers!"
Pardee was given the Falcon Award during the CHANNELLOCK® 135th Anniversary celebration and picnic on Friday, August 13.