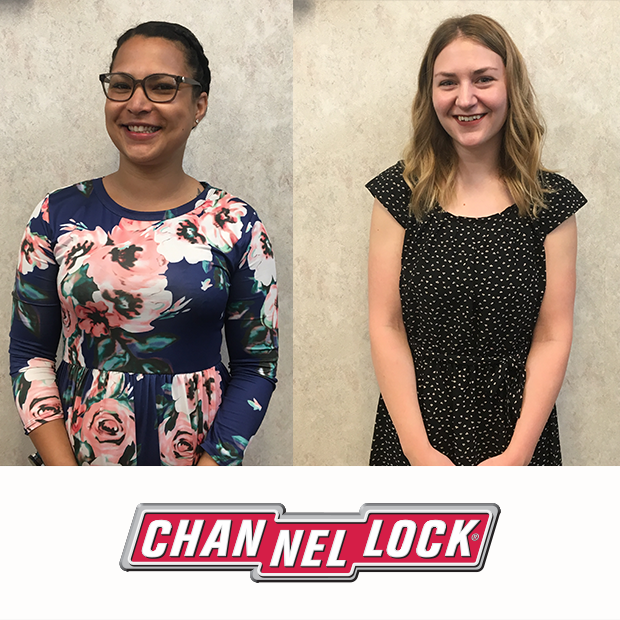 MEADVILLE, PA (May 25, 2018) – Today Channellock, Inc. announced the hiring of two new Customer Service Representatives, Alexsandria Carola and Amanda Easley.
Carola has extensive experience in the Customer Service field and says she is "excited to join a company that is so family-oriented." A Meadville native, Carola enjoys the outdoors, kayaking, camping and fishing. She has an affinity for rescue dogs, currently owning three.
A graduate of LTI, Easley received her associates degree in specialized business this year. She says she is, "excited to be joining a well-respected and community-oriented company that takes pride in its products and employees."
Easley began her career at Channellock as an intern in the accounting department. A native Pennsylvanian, she now resides in Meadville with her husband of four years, her dog and cat. Easley loves to hike, camp, crochet and sew. "I enjoy living and working in Meadville because it is a safe and beautiful city," she added.
Therese McLaud, Director of Customer Service, said, "Allie comes to us with a diverse customer service and sales background that will enable her to bring new ideas and experience to our team. We are excited that she has joined Channellock, and we expect that she will easily fit into our culture." She added, "Having worked with Amanda while she was an intern, she immediately came to mind when we had a position open in our Customer Service Department. When we identify talented interns, we always consider it a success if we can find a full-time role for them upon graduation."